Westport Headlands Park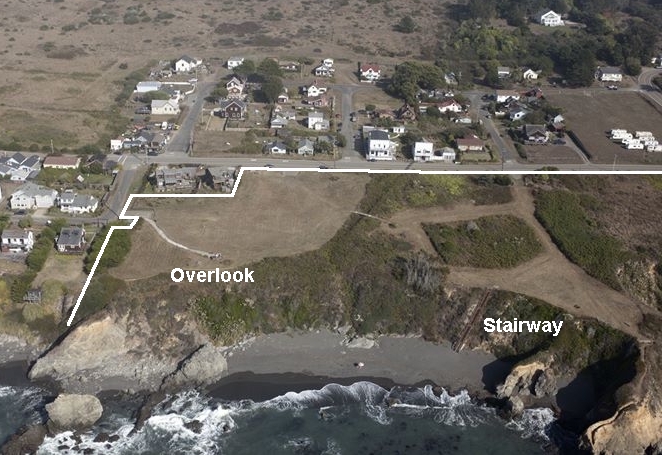 The Westport Village Society acquired the nine-acre headlands property in the center of the village in 2000 with the generous assistance of the State Coastal Conservancy. The property was improved in 2005 with a trail and overlook accessible by disabled persons; an informal trail system that includes a footbridge over a season stream in the center of the property; and a stairway that offers access to Eddie White Beach for recreation and fishing. A Management Plan was developed to guide conservation and the development of public access facilities at the site. Interpretive signs, a handicapped parking space, and gates for emergency access were also developed. We actively maintain this property to support public access and enjoyment of the park. We recently installed a sculptural bench for contemplating the natural landscape and are developing a natural playground area for children and their parent. If you are interested in helping with ongoing maintenance or the natural playground, please contact WVS.
he Headlands Park is open for public visitation from sunrise to sunset. We ask that you pack your own garbage out and preserve the natural setting. No camping, fires, or fireworks are allowed.
The Rules for Kayaks/Boats apply to day use undertaken exclusively at your own risk. Please excercise caution as ocean conditions can change quickly.
Boat storage is only allowed with an approved permit. The Permit Application should be submitted to WVS.
The property formerly served as a ship landing from 1878 until 1930. Two piers projected out onto offshore rocks to provide access to small "dog hole" schooners that brought supplies and transported timber products to markets in San Francisco and other destinations. Preserving and sharing the story of this ship landing and the history of the local area are an ongoing WVS project. Please visit the history page for more details about this ongoing research program.
This park is also used for community events such as the annual Westport Volunteer Fire Department's summer fundraising BBQ. Private events such as weddings may be held only with advance permission from WVS, and this event application may be used to apply for a permit. The application and questions about the permit process may be submitted by email using the following link: WVS. Events must comply with the terms of a permit, which include recognition that the park remains open to the public during any events held there. We appreciate your respectful use of this treasured community asset!